Review of "Unbreakable"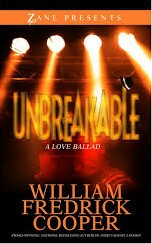 Unbreakable
by William Fredrick Cooper
William Fredrick Cooper takes us on an emotional rollercoaster in his latest novel, Unbreakable. The lyrical words he uses in this love ballad not only captures the essence of the two romantic leads, he weaves an homage to the life and music of Michael Jackson throughout the storyline. Both main characters share a love of Michael Jackson and the way their devotion to "The Gloved One" is incorporated adds an enjoyable aspect to their journey as they deal with heartbreak, love, redemption and committment.
Unbreakable offers an enthralling mix of romance and unbridled passion that is indicative of Cooper's literary skills shown in his earlier novels, Six Days In January and There's Always A Reason. Cooper knows how to paint a love scene that will leave readers breathless. In addition to a poignant story that will keep you engrossed and have you wondering what challenges await the main characters, the story delivers a welcoming message about strong relationships, the bond between friends, social justice and enduring love.
If Michael Jackson is the King of Pop, then William Fredrick Cooper is definitely the King of Romance.
© Copyright 2014. Review by Memphis Vaughan.
Purchase your copy of "Unbreakable" today.