Review of "Upon A Midnight Clear"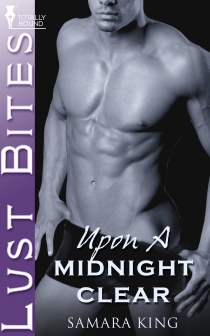 Upon a Midnight Clear
by Samara King
This sensual short story by Samara King opens during the holiday season with the ebony-skinned Drea Michaels in love with the handsome Carter James who has kept her in the friend zone due to his long-standing policy about dating friends. Yet, despite his self-proclaimed rule he can't seem to keep the torrid thoughts of making love to Drea out of his mind. Her sexy curves dominate his fantasies night and day.
Drea pines to feel his muscular and taut ivory body against hers as they make passionate love but it doesn't appear that it will ever happen. Not wanting to be alone during the Christmas holiday season, Drea declares she's had enough of Carter's foolishness and decides to seduce him. It will be all or nothing and if she doesn't succeed, that will end their friendship. Her quest to get Carter in her bed takes the reader on a bumpy sexual ride with a few twists and turns and false starts to rev up the heat.
Ms. King has written a story about two interracial lovers that offers vivid descriptions and an engaging storyline that will have you guessing whether these two friends will finally consummate their long-awaited desires for each other. My only complaint was that the story reached its final conclusion much too soon. Otherwise, Upon a Midnight Clear is a well-written erotic story that brings some heat to the cold holiday season.
© Copyright 2014. Review by Verve, one of TimBookTu's resident reviewers.
Purchase your copy of "Upon a Midnight Clear" today.