Review of "Lovin' Leela"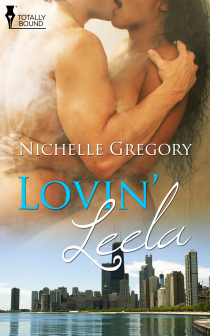 Lovin' Leela
by Nichelle Gregory
Leela Monroe is perturbed when the passionate sounds emanating through the walls from her next door neighbor's apartment disturbs her peace and quiet. Even the melodic jazz music he plays on his saxophone aggravates her when it invades her space. Deciding to confront him about the disturbance, Leela is thrown for a loop when she meets the charming Sam Ryan face-to-face. Sam is captivated by Leela's sexy body and hesitance to let herself go. He quickly seduces her with his good looks, tasty cooking and his direct personality.
Author Nichelle Gregory turns up the heat to boiling once erotic photographer Sam and radio station manager Leela reveal their physical attraction to each other over "dessert." While "Lovin' Leela" is a short 55 pages, it still delivers adequate helpings of steamy sex as the couple enjoy the sensual benefits of being next door neighbors. Will Sam convince Leela that his attraction to her is more than an occupational activity? Will Leela remove the barriers from her heart and let Sam in? You'll have to read "Lovin' Leela" to see if two hearts will beat as one.
© Copyright 2015. Review by Verve, one of TimBookTu's resident reviewers.
Purchase your copy of "Lovin' Leela" today.